Laneham Church, Nottinghamshire
Please CLICK ON THE THUMBNAIL to see the larger pictures. The number in ( ) tells the size of the large picture.
Our trip started with a short flight from Hahn, Germany to Stantsed, England. We rented a small car and set off for Scotland. We stopped at Laneham Church, Nottinghamshire so I could take photos of a 14th century chest that I want to reproduce. If you want to "drown" in the photos of the chest, go to the chest page in the Furniture section of the Greydragon pages.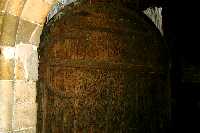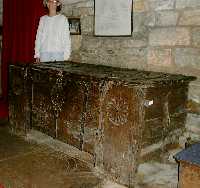 Tarythe and the rector of Laneham church (79kb)
The 800 year old door of Laneham church(38kb)
The 14th century chest in Laneham (103kb)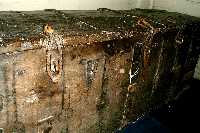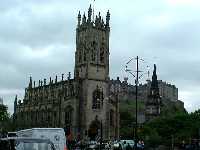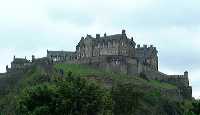 Another chest in Laneham. Made in the 15th century and currently used to store church records. (81kb)
Church in Edinburgh with castle in the background(37kb)
Edinburgh castle (25kb)